[High-tech LED News] Recently, Gaogong LED reporter learned from the Guixi Municipal Government of Jiangxi Province that the environmental impact assessment of the planning project of Jiangxi Yingtan Energy-saving Lighting Industry Base was officially announced.
The planned total area of ​​the base is 6.8 square kilometers, of which the first phase (2011) has a development area of ​​3 square kilometers, and plans to build an energy-saving lighting industrial base development service platform. The platform will include energy-saving lighting industry comprehensive building, product research and development center, test base, etc. At the same time, it will build a beautiful energy-saving lamp project of Midea Household Appliances Group Co., Ltd., and introduce 5-10 energy-saving lighting enterprises, and complete the "seven connections and one leveling". The total investment of the project is expected to reach 1.5 billion yuan.
Midea Group invested 500 million yuan to get involved in LED
On June 30, 2010, Midea Group, a subsidiary of Midea, signed a strategic cooperation agreement with Guixi City, Jiangxi Province. Midea Lighting Electric invested 200 million yuan to acquire Jiangxi Guiya Lighting Co., Ltd., and plans to invest 500 million yuan to build a beautiful Jiangxi light source. Base, this move marks the full launch of the diversified market strategy of Midea Group to enter the lighting industry.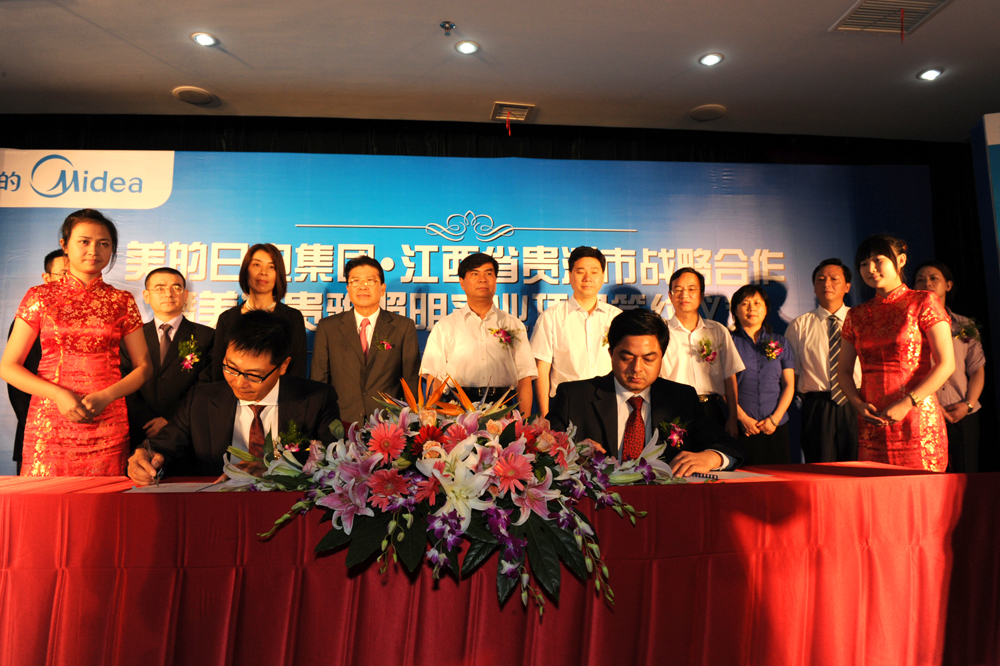 The picture shows the US-based Nippon Electric Group CEO Huang Jian and the Guixi Mayor Yang Jiesheng signed a strategic cooperation agreement.
Huang Jian, CEO of Midea Group, pointed out that although the lighting industry of Midea is the emerging business segment of Midea Group, it is the "important pillar industry" of Midea Group's next five-year plan. After Midea's acquisition of Jiangxi Guiya Lighting, Midea Group will also vigorously support and promote the development of the lighting industry. Midea will focus on energy-saving lighting products and general-purpose low-voltage electrical appliances.
According to the group's plan, Midea Lighting Electric is positioned to "do the best in the industry", will not participate in the existing market competition through low-cost, low-end products, and will not repeat investment and construction of low value-added or backward industrial chain, and the future Will focus on the development and production of LED.
Zhou Rundong, a LED application engineer at Midea Lighting Electric Manufacturing Co., Ltd., told Gaogong LED that Midea had set up an LED project as early as 2008 and established a lighting company in 2009. In accordance with the consistent style of doing things in the United States, the beauty of LED lighting must also be the top three in the country.
According to Zhang Wuli, general manager of the lighting industry, the high-tech LED reporter revealed that in 2011, Midea Lighting will achieve sales of 1 billion yuan, and has already made a strategic plan to achieve the top three in the industry and 5 billion yuan in sales in 2014. .
It is expected to cooperate with Jingneng Optoelectronics to jointly develop LED lighting products.
According to the provincial lighting industry development report released by Jiangxi Province, in 2009, Midea's Guiya Lighting completed its main business income of 388 million yuan; Yingtan Sunshine Lighting (the largest domestic energy-saving lamp manufacturer Zhejiang Sunshine Lighting Investment Group) completed the main business Business income was 438 million yuan. The combined revenue of the two companies accounted for 25% of the province's lighting output.
According to previous estimates, as of the end of 2010, Midea Lighting will complete annual revenue of over 500 million yuan.
At present, Midea Lighting has planned to enter the LED field and set about speeding up the implementation plan. The government will likely consider promoting the cooperation between Midea Lighting and Crystal Energy.
Bringing a variety of high-end LED lamps to the 2011 Shanghai Hotel Lighting Exhibition
Gaogong LED reporter learned from the Shanghai International Hotel Lighting Exhibition held on March 29 that Midea Lighting concentrated on LED high-end LED lighting products such as LED ceiling light, LED panel light and LED spotlight.
Previously, Midea Electric announced its 2010 results announcement. Benefiting from product structure optimization and sales improvement, the company achieved revenue of 74.559 billion yuan in 2010, a year-on-year increase of 57.70%, and net profit of 3.127 billion yuan, a year-on-year increase of 69%.

Using a high thermal conductivity aluminum substrate as a circuit board,Pure light color, good heat dissipation, low heat generation and good heat dissipation.
Low light decay, can save you more than 90% of electricity costs.Long life, maintenance-free.
The surface installation is simple and convenient, and the illumination angle can be adjusted according to the installation environment.
High grade, aluminum alloy shell, anodized surface, beautiful appearance, high grade, specially designed for jewelry and other showcase lighting.
Surface Mounted Hard Shell LED Strip
Outdoor Light,Hard LED Strip,Surface Mounted Hard LED Strip,Surface Mounted Hard Shell LED Strip
SHEN ZHEN SEL LIGHTING CO.,LTD , http://www.sellighting.com